Who can take part & do you have to raise sponsorship?
The Challenge is open to people of ages 16 and over. Children under 16 must be accompanied by an adult. For safety reasons there is a 10 hour time limit for completion.
Entry Fee & sponsorship
Full and Half marathon entry is only £15.00 per person + £20 minimum sponsorship per team member. Over 90% of our income goes direct to our beneficiaries.
10k Challenge entry is FREE + £20 donation per person at time of entry
Note: The minimum £20 donation / sponsorship must be paid online prior to the day, or on the day during walk registration.
FREE ENTRY FOR EVERY 4th MEMBER ONLY APPLYS TO GROUP ADULT ENTRIES — if there is one event to raise sponsorship for make it this one and help the smaller local charity's carry on with the good work they do.
Challenge T shirt new design for 2018:
These 100% polyester wickable t- shirts are available in childrens and adults sizes small – extra large. Order when entering on form.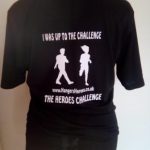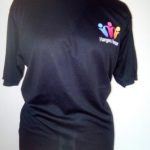 Highest fundraising team
Highest fundraising team will be presented with a cup (kindly donated by C.B.M) and goodies (kindly donated by Great Western Camping Dorchester). Formal presentation of cup to highest fundraising team to be arranged at later date.
Venue facilities
Free changing + Toilets + showers. Camping available (pitches from £10 ) please mention Hangers Heroes Challenge when phoning 01305 782575 to book.
Course Information
Distance: 10k, 13.1 or 26.2 miles
Surface: Multi-terrain
Route: ¼, ½ or 1 lap
Setting: Rural
Profile: Hilly
Water stations: Occasional
Route Markers: Yes
Traffic free? No
Awards/mementos: Medal + Goody bag
Walk Day Info
Registration Opens: 7:45
Pre-Walk Brief: 8:15
Walk Start 8:30
Refreshments on route
Water, squash, will be provided at the checkpoints. Light lunch provided at half way (full) finish for half checkpoint for participants.
10k Challenge participants at Abbotsbury finish point will have cake and refreshment. However, it is recommended that fluids are carried throughout the event.
Full / Half entry fee of £15.00 covers car parking, lunch (ALL PARTICIPANTS) and hot meal (FULL PARTICIPANTS ONLY) back at Bagwell Farm Touring Park, use of the shower and changing facilities.
10k Challenge entry covers car parking, refreshment, medal back at Bagwell Farm Touring Park finish.
Transport
Free transport will be available to take half marathon participants/retirees back to the start point at Bagwell Farm Touring Park.
Safety
Marshals will be present at the checkpoints. Any participant wishing to retire can inform a marshal who will arrange transport back to the finish.
Preparation to take part
It is recommended that a certain amount of training be done prior to the event. It is your responsibility to make sure that you are of reasonable fitness.
What we need next
Please complete the entry form below, the team entry tab or email walk4charity2013@gmail.com with postal address for a paper entry.
Important please remember to tick either full or half with your entry fees.
When raising your sponsorship please remember minimum total sponsorship raised must be equal to £20 per team member for Full/Half and 10k Challenge.
Online entries To enter online please complete the form and pay via PayPal .
No PayPal account you can still use PayPal as a guest when entering online or post a cheque along with your entry form.
Upon receipt of your completed entry form you will receive a sponsorship pack with entry numbers, the pack will also include details of the venue, checking in procedure and ideas for raising sponsorship.
---