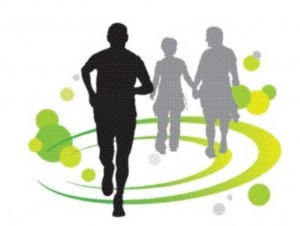 The Heroes Challenge Marathon Run 2017 – Race Report
The sixth Hangers Heroes Challenge run took place on 23rd September 2017 in absolutely perfect conditions for a distance running event and proved to be a fittingly successful fund raiser to mark the 25th anniversary of the Hanger's Heroes charity.
In contrast to the atrocious weather experienced during last year's event, the runners were treated to clear blue skies and a light, cooling wind. The result was that the runners were able to enjoy the staggering views that are on offer on this beautiful cross-country marathon course, this certainly had a very positive effect on running times, with some hugely impressive performances all round, which were assisted further by an improved level of course signage when compared to previous years. In fact the positive feedback and success of the enhanced signage means that we intend to make even more improvements next year to enable us dispense with any requirement for self-navigation; a factor that, from previous feedback, has potentially discouraged runners from entering.
As always, our fantastic volunteer marshals were in place to guide the runners from the start point at West Fleet Farm, along the Fleet Lagoon towards Abbotsbury Swannery and St Catharine's Chapel and into Abbotsbury village. The first water stop at the Swannery was provided an opportunity for our support staff to give plenty of vocal encouragement and some welcome jelly babies to keep morale and energy levels high all round. This came at just the right time as there was a shock in stall for any of the runners new to the event as they tackled the hideous 'Bumcruncher Hill' (Ed's name and not the one given on the OS map!) – the nasty climb out of Abbotsbury village up onto the ridge line that the runners would follow towards the half-way point at Hardy's Monument. It is guaranteed to have your heart beating harder than that of a turkey sat on a pile of Paxo listening to Christmas carols! If any of you ran from top to bottom without stopping then I'll eat my hat. The prize awaiting the runners on reaching the ridgeline at the top of the climb was the most spectacular panoramic view of Portland, Weymouth, the Fleet Lagoon, Abbotsbury and beyond. Many of the runners even stopped for a moment to take in the epic views before plodding on to Hardy's.  From Hardy's it was just a few hundred meters downhill to the half marathon finish and check point two for the full marathon runners. On arrival there was another fantastic surprise for our contestants as they were welcomed by the fabulous sound of six of the Wessex Highlanders Bagpipers. Added to the homemade cakes, jelly beans, bananas, refreshments and brilliant vocal support, the Pipers lifted everyone's spirts to another level. We are extremely grateful to them for travelling and donating their precious time to support us again this year.
First across the line was William Sawtell – 1st male in the half marathon in a time of 2:05:00, closely followed by his brother Rudy 2nd 2:09:22 and Sam Pattison 3rd in 2:09:26.  Elizabeth Poingdestre (Square & Compass Trail Runners) won the ladies half in a time of 2:41:18 and was closely followed by Liz Goldsack 2nd in 2:42:37 and Sue Tagg 3rd in 2:48:44 (Egdon Heath Harriers).  The Dorset Echo also had a reporter at the mid-way point and captured some good photographs and ran this report.
The full marathon runners who started to come through shortly afterwards were making full use of the check point and enjoying the music before heading on the next leg, whilst the half marathon runners were slightly more relaxed, checking out their awesome new style medals, drinking tea and eating home-made cake before being transported back to the start point and treated to a well-earned hot pasta lunch and cold drink in the morning sun.
On to the second leg of the marathon, with the biggest of the courses climbs out of the way, it was along the ridgeway approximately 4.5 miles to Upwey. Before they knew it, the competitors met our friendly marshals at the final checkpoint of the day at Upwey Wishing Well. The sun was beating down now and for some competitors muscle cramp was starting to bite. Fuelled on with jelly babies and yet more encouragement from the race support team, the runners set off for the final push back to Chickerell via Buckland Ripers. Tired legs and minds were now starting to affect some of the runners who needed to concentrate on not missing any of the course markers to stay on track. One-by-one, in pairs or often in friendly groups, the runners arrived at the final straight track into West Fleet Farm.
The clear winner and first male to arrive back at the Farm, and looking sickeningly fresh, was Kevin Ansell (Egdon Heath Harriers) in an impressive time of 4:15:55. The female marathon winner was Melissa Holmes 4:30:40 (not bad for a first marathon!!) who came in side by side with Mike Read 2nd male in 4:30:40 (Egdon Heath Harriers).  Paul Masters (Chard Road Runners) was the 3rd male in 4:43:05 and was followed by the 2nd and 3rd females – Sharon Daw 4:56:22 and Joanna Greatorex 5:54:54.
A really impressive effort from everyone who ran but our Heroes of the day were firstly the staff and owners of West Fleet Farm for giving us access to the superb facilities, their time and continued support for which we are so very grateful and all of the volunteer support team who were either photographing, driving and marshalling on what was a very long day in particularly warm conditions.  They never failed to continue to smile throughout and provided sterling support and encouragement to all. Without them and of course our race participants the essential financial support we provide to our charity beneficiaries would not be possible. Thank you so much!
Special mentions go to Rob '007' Love for being our Mr Dependable race day sweeper (despite carrying a ton of 'timber' around with him) and  for being a major supporter of Hangers Heroes year on year and to young Zoe Squirrel from Stella Hayward Riding for the Disabled – one of our main beneficiaries. In spite of Zoe's Cerebral Palsy, which affects her left arm and leg, she and her support team were inspirational in walking the second half of the marathon course (more information on the website soon). Hats off to you Zoe, well done!
We really hope everyone enjoyed the Challenge this year. As always, the camaraderie and atmosphere were superb and you have helped us to raise £1850 and rising for our charity beneficiaries. We would like to double this next year as a minimum but really need your continued support to do so. We have new ideas and plans for 2018 and we hope to see you all again next year with all of your family, friends and fellow club runners in tow.
Finally, the Hangers Heroes Committee would like to express our utmost admiration to Mr & Mrs Roger and Nina Hanger who created the Hangers Heroes charity 25 years ago. We congratulate them both on their incredibly un-waivered compassion, self-sacrifice, drive and determination in providing continuous fundraising and support to our local community for over a quarter of a century. Over that time they have been instrumental in raising a staggering £200,000 for local community charities. You are a truly inspirational couple!
Jase Douglas & Steve Knell
Marathon Run Managers
Hangers Heroes
HARDY'S TIMESHEET – HALF MARATHON FINISH POINT -MALE
Race No
Name
Start Time
Time at Hardy's
Race Time
Position
68
Willian Sawtell
08:45
10:50:00
02:05:00
1
66
Rudy Sawtell
08:45
10:54:22
02:09:22
2
73
Sam Pattison
08:45
10:54:26
02:09:26
3
53
Bob Russell
08:45
11:01:02
02:16:02
4
51
John Connor
08:45
11:26:20
02:41:20
5
60
Mark Andrews
08:45
11:39:06
02:54:06
6
58
Steve McAnulla
08:45
12:00:11
03:15:11
7
71
John Lever
DNS
HARDY'S TIMESHEET – HALF MARATHON FINISH POINT – FEMALE
Race No
Name
Start Time
Time at Hardy's
Race Time
Position
67
Elizabeth Poingdestre
08:45
11:26:18
02:41:18
1
64
Liz Goldsack
08:45
11:27:37
02:42:37
2
72
Sue Tagg
08:45
11:33:44
02:48:44
3
70
Chloe Carter-Miles
08:45
11:39:04
02:54:04
4
52
Mary Russell
08:45
11:51:42
03:06:42
5
56
Philippa Quinn
08:45
12:00:14
03:15:14
6
62
Donna Cooper
08:45
12:07:40
03:22:40
7
61
Clare Edmonds
08:45
12:07:57
03:22:57
8
63
Tina Usher
08:45
12:08:11
03:23:11
9
74
Corrina Deeble
08:45
12:08:18
03:23:18
10
54
Rosie Thomas
DNS
55
Katherine Gilmore
DNS
59
Jane Taylor
DNS
69
Jane Robson
DNS
FINISH POINT TIMESHEET – FULL MARATHON – MALE
Race No
Names
Start Time
Time at Finish
Race Time
 Position
24
Kevin Ansell
8:45:00
13:00:55
04:15:55
1
1
Mike Read
8:45:00
13:15:40
04:30:40
2
32
Paul Masters
8:45:00
13:28:05
04:43:05
3
36
Ash Scott
8:45:00
13:30:30
04:45:30
4
18
Guy Williams
8:45:00
13:42:20
04:57:20
5
23
Jason Nubeebuckus
8:45:00
14:08:35
05:23:35
6
28
Barnaby Hicks
8:45:00
14:08:35
05:23:35
6
4
Paul Trenchard-Seys
8:45:00
14:20:51
05:35:51
7
12
David Bird
8:45:00
14:25:30
05:40:30
8
11
Neil Sowerby
8:45:00
14:29:46
05:44:46
9
6
Nigel Arthur
8:45:00
14:32:32
05:47:32
10
35
Roddy Cameron
8:45:00
14:55:52
06:10:52
11
33
Chris Burt
8:45:00
14:55:54
06:10:54
12
21
Mark Cleaver
8:45:00
14:57:07
06:12:07
13
31
Daniel Pay
8:45:00
15:01:58
06:16:58
14
2
Graham Beckram
8:45:00
15:05:16
06:20:16
15
27
Malcolm Bush
8:45:00
15:30:59
06:45:59
16
34
Ralph Nubeebuckus
08:45:00
Stopped @ Hardy's
03:15:34
DNF
7
Rob Love – Sweeper
DNS
13
Rob Turner
DNS
15
Billy Price
DNS
16
Konrad Wagstyl
DNS
19
William Sheldon
DNS
20
Paul Reeve
DNS
FINISH POINT TIMESHEET – FULL MARATHON – FEMALE
Race No
Names
Start Time
Time at Finish
Race Time
Position
22
Melissa Holmes
8:45:00
13:15:40
04:30:40
1
30
Sharon Daw
8:45:00
13:41:22
04:56:22
2
10
Joanna Greatorex
8:45:00
14:39:54
05:54:54
3
17
Carol Rattigan
8:45:00
14:56:07
06:11:07
4
8
Ellen Cottom
8:45:00
15:30:53
06:45:53
5
9
Lisa Hewitt
8:45:00
15:30:54
06:45:54
6
25
Luretta Sprearing
8:45:00
15:42:49
06:57:49
7
26
Naomi Bennett
8:45:00
15:42:49
06:57:49
7
29
Tara Rufus
8:45:00
15:42:49
06:57:49
7
3
Elaine Falcus
DNS
5
Lucy Wyman
DNS
14
Fiona Russek
DNS