Challenge 2021 Sunday 3rd October
N
ow closed to entries
Who can take part?
The Challenge is open to runners and walkers of all ages. For the 10k and half children under 16 must be accompanied by an adult. For the full marathon runners must be over 18.
Bring your friends and join as a team or enter as an individual and make new friends.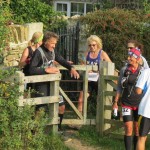 Entry Fee
Full – £30 ( fee includes parking, refreshment on route, transport to finish (if required), meal back at Bagwell, medal).
Half – £25 ( fee includes parking, refreshment on route, transport and meal back at Bagwell, medal)
10k – £15 ( fee includes parking, refreshment on route, transport to finish (if required), medal ) Meal back at Bagwell can be booked for £5 on entry form.
Over 90% of our income goes direct to our beneficiaries.
If there is one event to raise sponsorship for, make it this one and help the smaller local charity's carry on with the good work they do. Details of the local charities we are supporting this year can be found here.

Optional Sponsorship/Donation
Donation (can be made at time of entry) or sponsorship (sponsorship pack sent along with event details upon registration) would be gratefully received no matter how much.
Sponsorship can be raised by going to Just giving.com Once you have set up you page please share on your Facebook page to get your fundraising off to a good start.
Supporter of one of our past beneficiaries?
If you are a supporter of one of our past beneficiaries mentioned below please write their name on postal entry form, for online entries please put in the additional notes box at the end of the form.
Here are some of our previous beneficiaries – Stella Hayward riding for the disabled, Dorset Search and Rescue, Westfield Arts College, The Front Skate Park, Weymouth North Scout group, Home Start West Dorset, The Veterans Hub and Friends of the M.V.Freedom.
Venue facilities
Free changing + Toilets + showers. Camping available please mention Hangers Heroes Challenge when phoning 01305 782575 to book.
Preparation to take part
It is recommended that a certain amount of training be done prior to the event. It is your responsibility to make sure that you are of reasonable fitness.
Single Highest Fundraiser
Individual highest fundraiser will be presented with a trophy and a £40 voucher kindly donated by Great Western Camping Dorchester. Formal presentation of the trophy to the highest fundraiser will be arranged at a later date.
What we need next
Please complete the entry form below. You pay via our PayPal .No PayPal account you can still use PayPal as a guest
Important please remember to tick either full, half, 10k and walk or run boxes , Entry Fee (Donation if appropriate + gift aid box)
If you require a postal entry form please email walk4charity2013@gmail.com with your name and postal address
Upon receipt of your completed entry form you will receive a follow up pack via email or (post if requested). Pack will include details of the venue and day.
Any event questions should be emailed to walk4charity2013@gmail.com
---
Please don't forget to share our event with your friends on
Facebook and Twitter etc
Register Here
To enter online simply complete the form below. Alternatively, you can post a cheque made payable to 'Hangers Heroes' with your name, address, phone, number & email written on the back. Cheques should be sent to:
Hangers Heroes
C/O Bagwell Farm Touring Park
Chickerell
Weymouth
Dorset, DT3 4EA
PLEASE NOTE – INDIVIDUALS USE SINGLE ENTRY, FAMILIES AND GROUPS TO USE THE TEAM ENTRY.
---