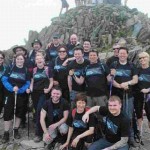 Determined staff from a RiskSTOP smashed their fundraising target when they tackled the Three Peaks Challenge.
The 16-strong team climbed the three highest peaks in Britain – Ben Nevis, Scafell Pike and Snowdon – over three consecutive days.
The Poundbury company set an original target of £5,000 however the total raised, including Gift Aid, has now climbed to more than £8,000.
For us, the RiskStop Three Peaks has been just a significant addition to our fundraising.
RiskSTOP manager Lisa Beaton – who suffers from vertigo – was among those took part in the challenge.
She said: "This is the most gruelling thing I have ever done.
"But at the same time it's also been the most rewarding.
"Everyone pulled together and without the help of my colleagues I would never have made it."
She added: "To be honest I almost forgot about my fear of heights, until one of the team reminded me at the top of Scafell Pike with a 'you wouldn't think Lisa suffered from vertigo would you?' "We all had to laugh, and this was just one of many memorable moments for us all."
RiskSTOP and Hanger's Heroes have a Virgin Money Giving page which is still accepting online donations.