Who can take part?
The Challenge is open to people of ages 16 and over for the half, 18 and over for the full marathon distance. There is an 8 hour time limit for completion.
Entry Fee
Full / Half entry is only £15.00 plus a minimum of £20 sponsorship (or personal contribution) to the Hangers Heroes charity.
10k Challenge entry is FREE + either personal contribution/sponsorship of at least £20 per person to the Hangers Heroes charity.
Over 90% of Hangers Heroes' income goes direct to our beneficiaries.
Note: The minimum £20 donation/sponsorship must be paid online prior to race day, or on the day during race registration.
Run for FREE
Raise over £100 of sponsorship your race fee will be refunded. If there is one race to raise sponsorship for make it this one and help our smaller local charities to continue the amazing work they do. Details of the local charities we are supporting this year can be found here.
Sponsorship can be raised by going to www.virginmoneygiving.com. Once you have set up you page please share on your Facebook page to get your fundraising off to a good start.
Refunds, Cancellation and Transfer Policy
Refunds and Cancellation
The Heroes Challenge operates a no refund policy; however, we do understand that injury and personal circumstances can sometimes prevent you from taking part. For these reasons we do offer a limited transfer policy.
Transfers
We will accept withdrawals from the challenge at any time up 1 month before the event date – 22nd August 2018. In this instance, race entrants will be offered a one-off deferral to the 2019 event.
We also offer a one-off opportunity to transfer your entry to another person up to the 22nd August 2018 . In this instance, the transfer is valid for the 2018 event only, the new runners details must be submitted to us by this time. No transfers will be accepted after 22nd August 2018 .
Note: For safety reasons, only the person registered for the event may take part. In all instances, we reserve the right to request proof of identity at registration.
T-shirts new design for 2018: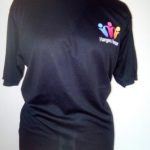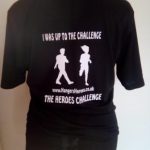 These 100% polyester wickable t- shirts are available in chidrens and adults sizes small – extra large. Order when entering on form.
---
Don't forget to share our event with your friends on
Facebook and Twitter etc
Register Here
To enter online simply complete the form below. Alternatively, you can post a cheque made payable to 'Hangers Heroes' with your name,address,phone,number & email written on the back. Cheques should be sent to:
Hangers Heroes
C/O Bagwell Farm Touring Park
Chickerell
Weymouth
Dorset, DT3 4EA
PLEASE NOTE – INDIVIDUALS USE SINGLE ENTRY, FAMALIES AND GROUPS TO USE TEAM ENTRY.
---
Sponsorship and Information Packs
Upon receipt of your entry form and payment you will be emailed or posted a sponsorship and race information pack. Pin-on race numbers will be provided on the day of the event.
Any event questions should be emailed to theheroeschallenge@hotmail.com
Highest Fundraiser
Highest fundraiser will be presented with a cup and a £40 voucher kindly donated by Great Western Camping Dorchester. Formal presentation of the cup to the highest fundraiser will be arranged at a later date.